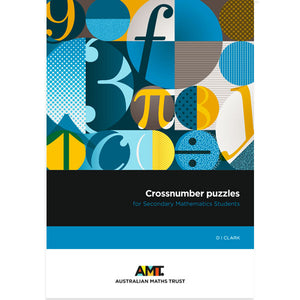 Crossnumber Puzzles
Regular price
$35.00
$0.00
Tax included.
Shipping
calculated at checkout.
Crossnumber puzzles are something akin to detective stories. Clues are given, but the implications of the clue needs to be worked out before it is applied in furthering the solution of the puzzle.

A unique feature of this book is that each puzzle comes with a solution guide which gives one possible order for solving the puzzle. The solution guide shows which cell or cells to tackle next, without showing how to do it. Many of the clues in the puzzles have operations that go beyond simple addition, subtraction, multiplication, division and averaging, but they are still accessible to solvers who are unfamiliar with them.
Full solutions to each puzzle are also included as well as a glossary of mathematical terms used in the book.
---
Author: DI Clark
---
More from this collection